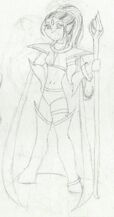 Cat is a member of the Pi Force and the caretaker and mother figure for Aiko.
Basic Info
Edit
Name: Cat Felinus
Clan: Pi Force
Clan Guardian: Laima
Weapon: Staff
Profession: Police Officer
SES: Lower Middle Class
Celestial Race: Amoretto Division
Hair: Blue
Eyes: Blue
Skin: Pink
Brother: Ocelot Felinus
Daughter: Aiko, Civet
Cat is like a mother hen for the Pi Force.  She helps her brother Ocelot oversee operations and run the Pi Police Department.  In Volume 1, she flied a helicopter in for an air raid to bust a street brawl.  She was the ex-girlfriend of Jupiter before he met and married Venus's mother.
Find out the truth about Cat and the other members of the Pi Clan in Volume 5.