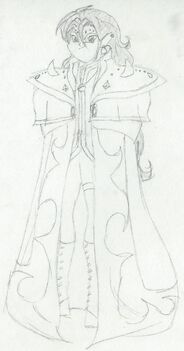 Crux is a member of the Delta Clan and proclaimed as the Demon King who was defeated by St. Aurora Borealis.
Basic Info
Edit
Name: Crux Australis
Clan: Delta
Power: Darkness / Draining emotion and life
Weapon: Sword
Profession: Conquerer, Conjurer
SES: Wealthy Family
Celestial Race: Hellion
Hair: Black
Eyes: Red
Skin: Silver/Grey
Brother: Lupus Australis
Son: (Find out in Volume 6)
Crux Australis is the frightening ancestor of Orcus and Perse, leader of the Delta Clan. As the legend goes, Crux and Aurora were mortal enemies and their families remained embittered by each other even into the modern day.  Family members such as Halo Borealis and Pluto Australis still attempt to bridge a gap between the families.  No matter what the Borealis Family will always hold a grudge against him because Crux was noted in history as killing the Borealis Family's chance to have a royal lineage when he killed Queen Corona Borealis.
Crux is a dark and mysterious character as the audience gets to know him in Volume 4.  He has a lot of heart although it is black, and shows a gracious and noble nature despite being considered the spawn of pure evil.