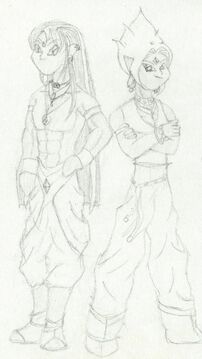 Dawn is a hopeless romantic with an eye for fine jewelry.  He is the one on the right in the picture. 
Basic Info
Edit
Name: Dawn
Clan: (Find out in Volume 3)
Weapon: Gun / Sword
Profession: Henchman
SES: Poverty
Hair: White
Eyes: Hazel
Skin: Brown
Mother: (Find out in Volume 3)
Father: (Find out in Volume 5)
Dawn first appears in Volume 3 as a character but has a mysterious background.  Dawn has an upbeat personality.  His favorite pastime is flirting with beautiful girls at the Omicron School.  Pretty much all the students of the magnet school are handsome men or beautiful women so needless to say, Dawn had a field day with all the girls there.  Too bad they weren't interested in them; well, all except one girl.  One of the most unlikely characters falls for him despite her good reputation and his bad boy demeanor.  If you want to know who, then find out in Volume 3.
Dawn has a theory about why the girls may not like him and he thinks it might have to do with all the jewelry he wears; maybe they think he isn't straight so they avoid him?  Most men in the Dionne System wear an ear piercing or one necklace, but he is dripping in stolen jewels.  He does it to cover up the jewel that's on his forehead.  For some reason, certain mortals are born with jewels embedded into the skin of their foreheads.  He doesn't like the jewel so he thinks it will gather less attention if he wears a lot of jewelry.
As a side note, Dawn's hair looks like Vegeta from Dragon Ball Z.  Just pointing out Dragon Ball's influence on the illustrator's character design.