Dr. Mihos is the main villain for most of the first series.
Basic Info
Edit
Name: Dr. Mihos
Clan: Beta (Leader)
Guardian: Hydra
Power: Metal
Weapon: Laboratory
Profession: Scientist / Researcher
SES: Upper Class
Celestial Race: Half-Blood
Hair: Black
Eyes: Black
Skin: Pale
Father: Enilef
Sister: Song-Kou
Brother: Neko (half-brother)
Brother: Usa (brother-in-law)
Son: (Find out in Volume 5)
Daughter: Aysa Mihos
Wife: (Find out in Volume 2)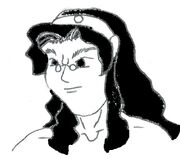 From
Volume 1
until
Volume 5
, Dr. Mihos is perceived as the ultimate bad guy, but as it turns out there's one worst than him who has been secretly terrorizing the chracters in the shadows from beginning to end.
He's a very evil father and is hated by his daughter Aysa Mihos.  He wants her to work on the same side as him so arranged a marriage between her and a man from the Beta Clan named Uranus Beatrix.  Another reason he wanted this marriage was because Dr. Mihos is able to take over as leader of the Beta Clan.
He spends most of the series trying to kill off the other clan leaders who are called traitors, but the reason for that isn't revealed until Volume 5.  Venus, who is a nice loving character, only has one person that she hates and Dr. Mihos is that person.  She has a very good reason for it which happens at the end of the Volume 1.