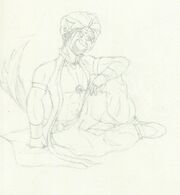 Eninac is the Dog Hellion and one of the notorious 12 Hellions.
Basic Info
Edit
Name: Eninac Adolphus
Clan: Lambda
Guardian: Hydra
Power: Earth
Profession: King
SES: Wealthy
Celestial Race: Hellion
Hair: Black
Eyes: Red
Skin: Dark Brown
Daughter: Vixen Adolphus, Rhea Adolphus
Eninac is the king of the Lambda Clan and he lives on the Desert Planet with his wives and concubines.  Because hellions are immortals he has ruled over the Lambda Clan for centuries. 
Find out more about King Eninac and Princess Vixen in Volume 9.