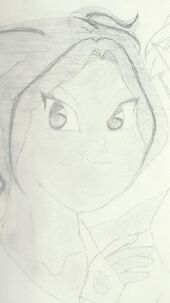 Knight is a chosen member of the Gamma Clan, a young bounty hunter and vigilante who has the power over plant life.
Basic Info
Edit
Name: Midnight Madison Hari
Nickname: Knight
Clan: Gamma
Guardian: Mediene
Power: Plant
Weapon: Bow and Arrow
Profession: Bounty Hunter
SES: Middle Class
Celestial Race: Dominion Division
Hair: Black/Green Streaks
Eyes: Dark
Skin: Dark Brown
Mother: To-more-oh Hari
Father: Noon Hari
Sister: Eve, Mornin' Hari
Brother: Dusk (brother-in-law)
Son: Dai
Husband: (Find out in Volume 4)
Knight is at the top of her class in high school.  Knight is one of Aikido's friends at Omicron High School.  Outside of the school her very best friend is Aiko, a member of the Pi Police Force.  Her dream is to be deputized by the Pi Force as an official police officier in Dionne.  Unfortunately, if you are not born into the Pi Clan then you are not eligible for being a police officer.  But that doesn't stop her from pursuing the bad guys anyway.
Knight has an on again off again relationship with Matrix Vulcan.  But really she's just following him around because a lot of the gang memebers in Rho get into trouble with the law. Being a teenage bounty hunter isn't easy and she has to pick up leads wherever she can.  There are two other bounty hunters named Io and Phoenix who compete with her. 
She lives with her father after her mother separated from him, her older sister, Eve, got married, moved out of the house and took their little sister, Mornin', with her.  They live in a rural area outside of the city.  She tends to the gardens and grows many different varieties of plants.  Her pet is a giant bubble bee about the size of her hand.