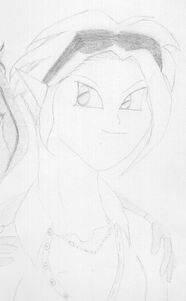 Matrix is a chosen member of the Rho Clan and has the power over water.
Basic Info
Edit
Name: Matrix Vulcan
Clan: Rho
Guardian: Opo
Power: Water
Weapon: Depicted carrying two swords in some pictures
Profession: Soccer Player
SES: Lower middle class
Celestial Race: Plain Angel
Hair: Blond
Eyes: Blue
Skin: Beige
Mother: (Find out in Volume 2)
Brother: Alloy Vulcan
Son: (Find out in Volume 4)
Daughter: (Find out in Volume 4)
Wife: (Find out in Volume 4)
Matrix is known to have a short temper at times and is very overprotective about his loved ones.  He's very passionate about things such as soccer, his family, and especially the love of his wife.  Matrix does not get married and have children until Volume 4.  For the first three books he has a turbulent relationship with Knight of the Gamma Clan.   They have an on again off again relationship for a while.
Matrix's older brother, Alloy, is the leader of the Rho Clan which gets him into a lot of trouble.  In Volume 2, the members of the Rho Clan, called Mechangels, rebel against mortals and what to be treated as equals or higher than the mortal beings.  Because of this and other illegal operations that Alloy oversees, his brother is treated more like a criminal especially by his bounty hunter girlfriend, Knight. 
Matrix has trouble getting along with Alloy's girlfriend, Aysa, because she is the daughter of Dr. Mihos.  Alloy thought it would be a phase, Matrix never grew out of his negative feelings for her.