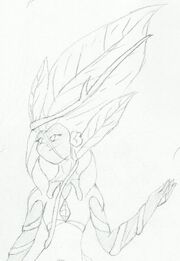 Mediene is the angel of plant life and is the guardian of the Gamma Clan.  Her protected one is Knight.
Basic Info
Edit
Name: Mediene
Clan: Gamma
Guardian: Uni
Power: Wind
Profession: Guardian Angel
Celestial Race: Archangel
Hair: Green
Eyes: Green
Skin: Dark Brown
Find out more about Mediene in Volume 6.