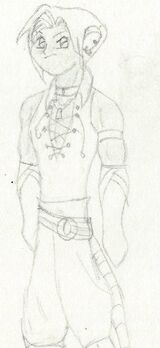 Nezumi is a member of the Beta and the son of Esuom one of the 12 Hellions.
Basic Info
Edit
Name: Nezumi Ratimir
Clan: Beta
Guardian: Hydra
Power: Water
Profession: Gang Leader
SES: Wealthy
Celestial Race: Half-Blood
Hair: Black and Gray
Eyes: Red
Skin: Light Brown
Father: Esuom Ratimir
People say Nezumi looks like Cupid, the son of Venus and it gets Cupid in a lot of trouble because of it.  Find out more about Nezumi in Volume 12.