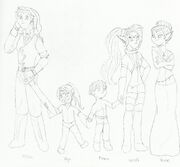 Orcus is the daughter of the Delta Clan's leader, but acts as co-leader with her.
Basic Info
Edit
Name: Orcus Australis
Clan: Delta (co-leader)
Clan Guardian: Hades
Weapon: Sword
Profession: Delta Military General
SES: Upper Class
Celestial Race: Demon / Vampire
Hair: Yellow
Eyes: Red
Skin:  Pale
Father: Hydra Australis
Mother: Perse
Husband: Pluto Australis
Son: Krono
Daughter: Styx
Orcus is the daughter of Hydra and Perse and almost worshipped by the other demons because of her relation to Hydra.  The Delta Clan and Sigma Clan reconcile their differences and the king even allows them to work as military officials for the crown.  Orcus becomes a general in the Delta Military. 
When she becomes suspicious of her husband, Pluto, she hires a private eye to investigate.  When she does discover the truth about him all hell breaks loose and because she is a demon it really is hell for Pluto.
The audience comes to know her better in Volume 4 when she gets to meet one of her ancestors from the past head on.