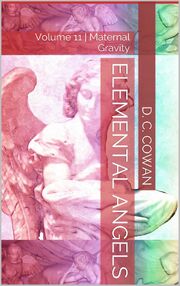 This is Volume 11 of the Elemental Angels Series.
Maternal Gravity Saga
Edit
As the title suggests, Maternal Gravity is a dedication to mothers who care for their children like a guardian angel.  Throughout this series many characters exhibit motherly love like a legion of angels.  Like one mother, and her husband who have an unyielding love for their son; they give their lives trying to provide their only son a future free of tyranny.  One mother's heart of strength and another mother's heart of courage bring love and hope at this dark time in their galaxy's history.  A mother's love holds gravity like a heavenly body; a maternal gravity that brings a child back who has been missing for years or it can give an orphan, loving arms to run to when he has no home of his own.  All in all, this maternal gravity is a force of nature that cannot be learned through the mind, but it can only be felt by the heart.  The first generation chosen ones are exemplary models of this type of love.  They will be put to the test and stretched to their limits by the evil queen mother, who shows us everything a mother should not be.  Will the mothers of the chosen children be able to hold out in time to stop the queen mother?  Find out in Volume 11 of the Elemental Angels Series.
Available Now
Edit
Add Elemental Angels the eBook to your wishlist!  Click here.