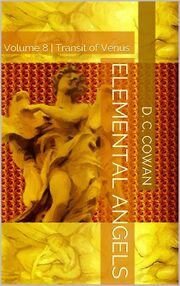 This story picks up 14 years after the end of Volume 7.
Transit of Venus
Edit
A Transit of Venus occurs when the planet Venus passes between the sun and the earth.  Venus was a character that seemed like the ultimate hero to vanquish the Hellions, but really this task will have to go the second generation, the children of the chosen ones.  Venus was like the Planet Venus passing between two heavenly bodies, the Sun (i.e. Solar Hero, Hercleo) and the Earth (i.e. the ultimate hero of the series).   The first seven volumes were about Venus, but the last five will finish with her son, Cupid, and daughter, Nova (i.e. nicknamed Shiva because she was born with a jewel on her forehead that looks like a third eye) and all their friends and allies.
Available Now
Edit
Get ready for the fight of the century.  After thirty years, the Tau Tournament of Strength finally returns with a new stadium and new fighters from all over the galaxy.  The children of Venus and many others try their luck and test their skill against others who can use powers.  Fourteen years after the end of Volume 7, the hero's children are teenagers ready to rumble and use their powers over the elements.  This new generation is so powerful they don't even need to have their angelic companion present in order to use their power at full strength.  It used to be only the chosen members had powers over the elements, but slowly more and more mortals are gaining powers over the elements. And what's worse is that all power fighters are not necessarily on the side of good.  The power can cause arrogance within the user and gradually their generation becomes more corrupt.  It's becoming more and more difficult to tell a chosen one from a normal mortal.  They all eat and drink of the forbidden fruit and their sinful nature steps out of the shadows.  Can the characters resist the evil temptation or will they plummet helplessly into the immoral society?  What can they do to escape?  Fly into the stars?  Find out in Volume 8 of the Elemental Angels Series.